Kevin Wendell Crumb (James McAvoy) ist noch immer auf freiem Fuß und hochgefährlich. Der junge Mann, der mehrere Persönlichkeiten in sich vereint, hat schon einige Menschenleben auf dem Gewissen und die Gefahr besteht, dass es schon sehr bald mehr werden. David Dunn (Bruce Willis) heftet sich deshalb an seine Fersen, um ihm das Handwerk zu legen. Die Zusammenstöße der beiden werden dabei immer heftiger. Und was hat eigentlich der im Rollstuhl sitzende Elijah Price alias Mr. Glass (Samuel L. Jackson) mit der ganzen Sache zu tun? Seine Anwesenheit scheint zu jeder Zeit im Hintergrund spürbar zu sein und womöglich zieht er im Hintergrund nicht nur die Fäden, sondern er scheint auch einige Geheimnisse zu verbergen.
Fortsetzung zu M. Night Shyamalans Psychothriller "Split", das im gleichen filmischen Universum spielt wie sein früheres Werk "Unbreakable" mit Bruce Willis.
Ratecontrol …. : 2pass
Video ………. : 1920×808 @ 7865 kbps
Audio 1 …….. : German DTS 5.1 @ 1509 kbps
Audio 2 …….. : English DTS 5.1 @ 1509 kbps

Forced Subs …. : German & English
Vobsubs …….. : German & English, German & English Forced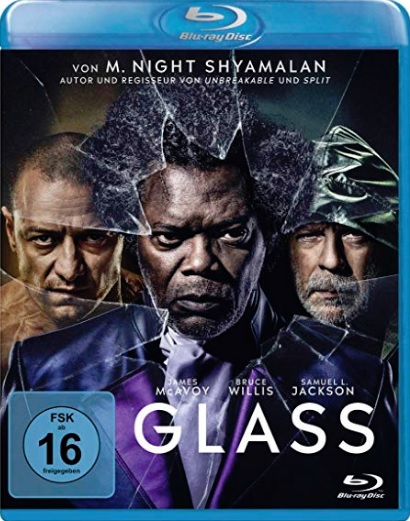 Dauer: 129 Min. | Format: mkv | Größe: 10132 MB | IMDb: 7,0
Download: Anonfile.com
Mirror #1: Uploaded
Mirror #2: Share-online
Passwort: movie-blog.org
Download #2
Download: ★ OBOOM.com ★
Mirrors: anzeigen (3)
Mirror #1: Zippyshare.com
Mirror #2: Uploaded
Mirror #3: Share-online
Passwort: movie-blog.org
Download #3:
Download: ★ OBOOM.com ★
Mirrors: anzeigen (5)
Mirror #1: Rapidgator.net
Mirror #2: Anonfile.com
Mirror #3: Zippyshare.com
Mirror #4: Uploaded
Mirror #5: Share-online
Passwort: movie-blog.org
Download Glass.2019.German.DTS.DL.1080p.BluRay.x264-COiNCiDENCE garantiert kostenlos und Online mit Fullspeed
8 Kommentare



Danke, ein Remux o. eine Multi-Complete Blu-ray wäre toll.




IMDb 6.8




Gibt es eigentliche keine Gruppe mehr die es gebacken bekommt richtig zu croppen?

Ich sehe überall nur noch diese Streifen am oberen und/oder unteren Rand, voll mit hängenden Artefakten, weil nicht der ganze schwarze Bereich weggecroppt wurde, und der Enkoder entsprechend am Rad dreht weil er diese scharfe Kante ohne enorme Bitraten unmöglich vernünftig kodiert bekommt.




Lieber dobdob,

ich muss dir hiermit mal ein sehr hohes Niveau attestieren.

Ein sehr hohes Niveau des Beschwerens.




Danke dobdob! Endlich eine nachvollziehbare Erkärung dafür warum alle 1080p Releases von Filme von 2017 und danach prinzipiell auf über 10GB aufgeblasen werden.




Der Film geht bei mir am TV nicht. Ton stockt, Bild unterbricht auch… So wie normal bei X265 Videos, die mein TV nicht richtig kann




@DeiMudder

geht mir genau so. Samsung LED Fernseher sagt "Video Codec nicht unterstützt"




Hab seit zwei tagen das selbe videocodec problem. hab auch einen samsung le46c750, lasse filme über eine externe hdd laufen. selbe problem bei glass-under the silver lake-chernobyl teile 1-5-the house that jack built!!
Kommentar abgeben